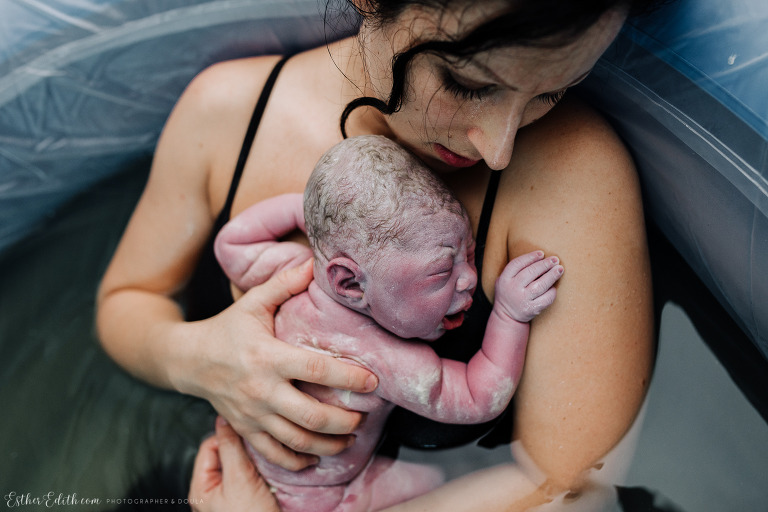 "Having had three previous children, including an induction, an unmedicated hospital birth and a homebirth to hospital transfer, each birth left me feeling like I missed out on the positive, peaceful birth I wanted. With my fourth child, I had my heart set on a having successful homebirth. With this, I began looking for the best support team for the birth of my son Neelam. I found Esther Edith online, and after our first meeting I decided to hire her for not only doula services, but birth photography as well. First of all, Esther is calming. More than that she is caring, kind and compassionate, attentive, unassuming, and of course captures the precious moments of birth beautifully. She sees the beauty in all aspects of the birthing process, which is so important in a birth photographer and it shows in her work. Esther overflows with passion for birth, the bond between mother and child, and the love and unity that a new life brings to family. We were very pleased with the service Esther provided our family at such an intimate time. As for the birth photography, Esther's presence made me feel completely safe and unashamed in the midst of the vulnerability (i.e. nakedness) of birth and the afterbirth. We are so grateful for the memories Esther captured for us – photos we will treasure a lifetime!" ~ Colette Smith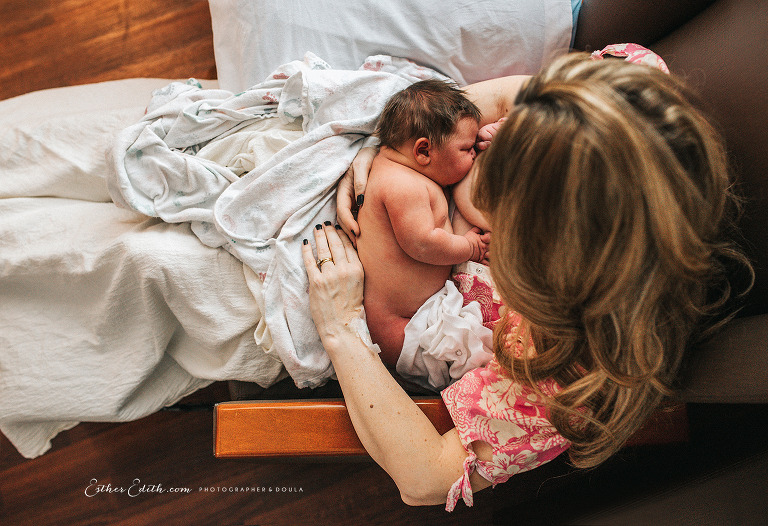 "Esther Edith is a truly gifted servant of women in their childbearing season. From absolutely amazing and compassionate doula care, to educating and supporting families, to capturing truly real photos of the moments in labor, the transition of life from womb to Earth. I have been richly blessed by having Esther by my side for my long labor. As a VBA2C mama of many, I needed a doula that understood and supported my unique birth history and desires, as well as my faith. If you are searching for a phenomenal birth doula to walk through your story along with you, and capture all the moments to treasure, look no further than Esther Edith." ~ Andrea Roltgen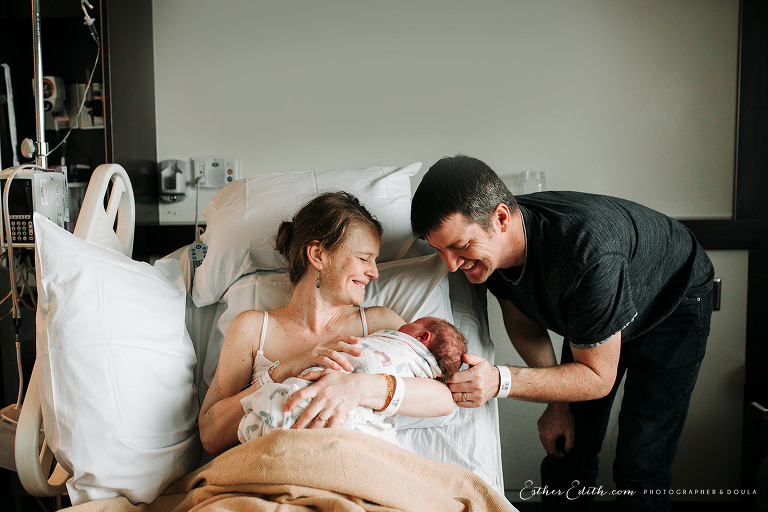 "Esther speaks with both gentleness and strength. As my doula she created pockets of courage where I would've floundered and felt afraid. After the birth she captured moments that even two weeks later were all but forgotten. My mouth fell open as I view the pictures and the resplendent joy that would've slipped unremembered into the past. You have no idea how much you forget until someone captures it." ~ Bethany Schaffer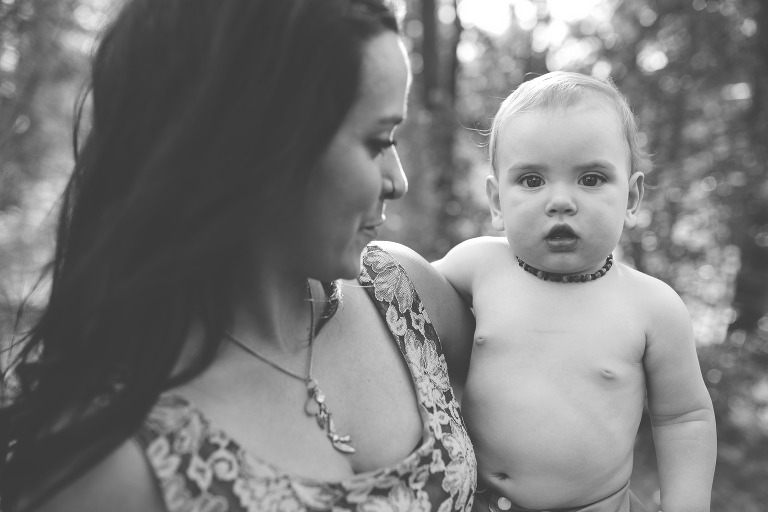 "I LOVE Esther. She has such a gentle, loving and kind spirit about her that just makes it easy to trust her! This summer she captured some very treasured nursing pictures of my son and I (as well as some business head shots) and we were both just super comfortable in front of her and her camera. Not only is she professional but also loving and caring and incredibly talented. Esther is a huge asset to our community- for her photography and doula skills." ~ Morgan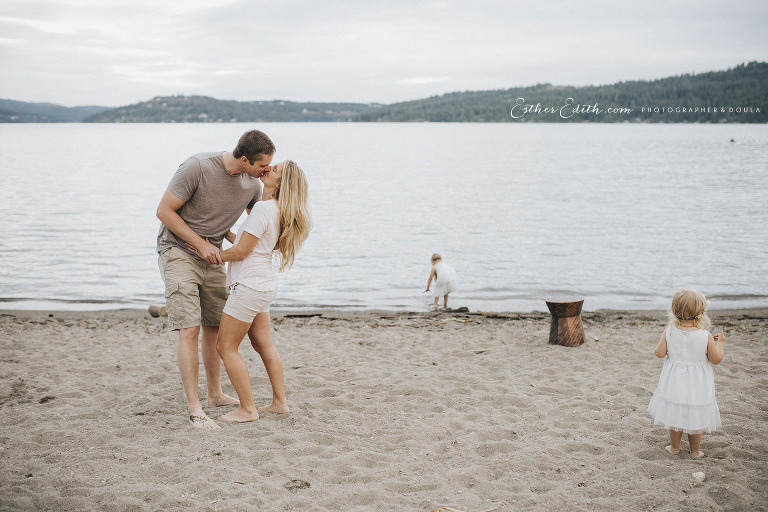 "Choosing a photographer can be such a challenging task, but Esther's portfolio speaks for itself. If you have never had lifestyle photography you will be a believer after seeing the images captured, real life, real love, real emotion that takes you back to that time and place. I highly recommend Esther Edith Photography for not only her quality work that you will be able to display around your home like art work, but also her professionalism and character. She worked patiently in the background capturing our children's creative side, but also pulled us in for the occasional group shots that I was looking for as well. This worked well with my children's short attention span and I am so pleased with our images. One of the best parts about Esther's experience and creative eye is I did not have to spend hours searching for perfect posed ideas and yet we still have a large selection of photos that both my husband and I loved. No fake smiles from the kids, but true genuine interaction and happiness that you can feel by looking at the photos." ~ Lila McDermid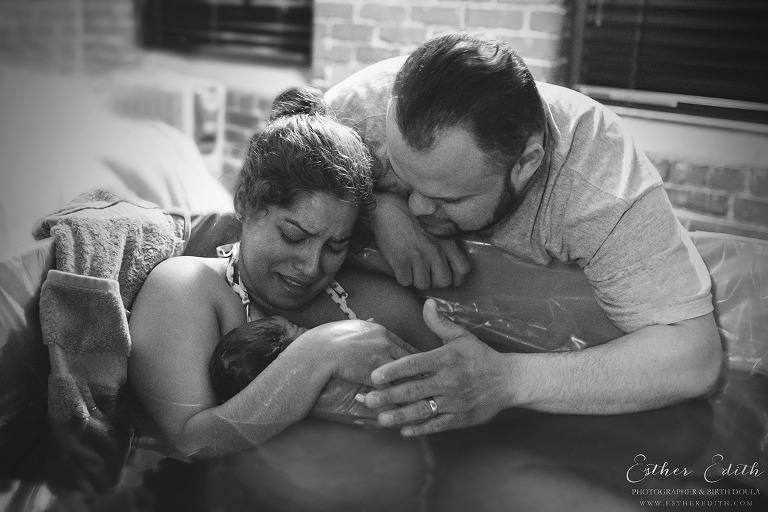 "Any woman can relate that a first time birth specially if it is homebirth can be a very beautiful and a stressful time. With the support of my husband, family, friends, and my mid-wife I thought I had everything I needed for this birth. However, I wanted this day to be very special, and I certainly wanted to cherish it with beautiful photography. But who to choose? I went on a quest for a photographer who can understand and respect the process of a home birth and that would not make it stressful for me. So it was, I found Esther searching the web and truly it was the perfect match. Since the first time I met with Esther, I automatically clicked with her. Not only was she a photographer but a Douala as well, truly all the signs were pointing into hiring her. To further this "miracle" as I like to call it, Esther happened to know my mid-wife. I talked to my mid-wife of what she knew about Esther, and she had nothing but to say nice things of her. There was no doubt left, I wanted Esther to be part of this beautiful moment in my life. Her care and attentiveness before, during, and after the birth were far beyond from what words can express, for it was like she was that old friend you always have that one can rely on. Anytime I needed something, Esther was available and always ready to do things will love and care. She took the time to be there for me, bringing me my favorite dessert, and above all she shared the labor pains with me always keeping calm yet understanding my fatigues. During the birth, she carried herself with such delicacy that one can hardly tell when she is taking pictures. For she takes modest photos, and is very professional in this are of her job. Esther personifies a very solicitous, loving, giving, attentive, person that would ease the process and help you create a stress free environment during the beautiful moment of your birth. Just remember it is good to have that friend that you can always rely on! I never though I was going to need a Doula when my midwife told me my husband said will be fine because the midwife is coming with and assistant but when the time came having Esther it was such a blessing we felt so sorry when we found out she was moving because we set out minds to have her in all of our future births." ~ Florines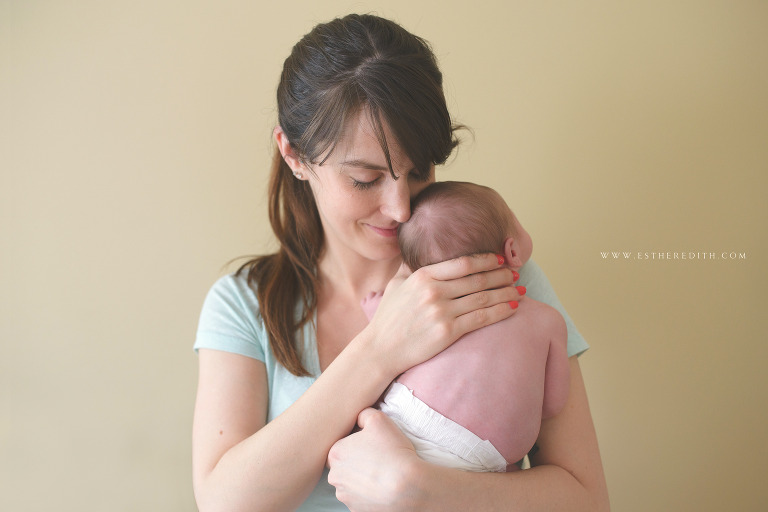 "When I discovered I was pregnant, I set out to find the perfect photographer to capture the our precious moments and Esther was that photographer. She has an amazing knack for catching the most intimate, genuine moments. Moments that brought many smiles and some tears to the eyes of family members far away. There are honestly no words to express how thankful we are for her help in capturing the whirlwind that is being pregnant and welcoming a little one home. On top of it all she was truly a pleasure to work with. She worked tirelessly with me to pin down a maternity photo shoot location, remembered my due date/guess date (and sweetly posted about it on Facebook), and puts her heart and soul into her art. We hope to work with Esther for years to come!" ~ Alexandria


Esther was amazing to work with! One of the best features of our pictures was the location with the lighting, which was all her idea. It is clear she truly enjoys what she does! My husband and I had a lot of fun with her, and hope to be able to use her again in the future. We appreciate Esther's incredible generosity. We won the maternity session give away, and even though we were not a paying customer, Esther still went above and beyond during our photo shoot! If Esther has any suggestions regarding location, you should listen to her because she has a great eye for good lighting. We would highly recommend Esther! She will work hard to be sure you capture priceless memories!" ~ Nathan & Falon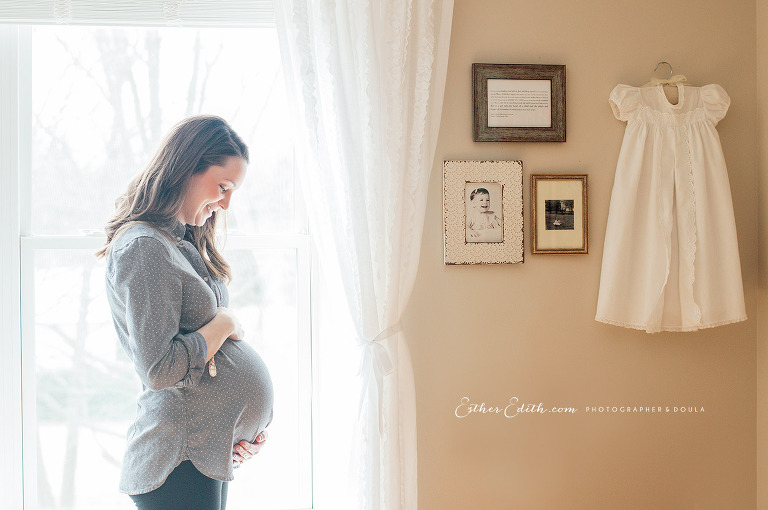 "I'm so happy with the maternity, birth and newborn photos that Esther took for my family. She was very generous of her time– both in our sessions and in her editing. I'm grateful that I can look back at my big belly, my first moments with our daughter and all of her tiny details for years to come. I look forward to sharing the beautiful photos with my daughter as she grows up!"
~ Brigid, Maternity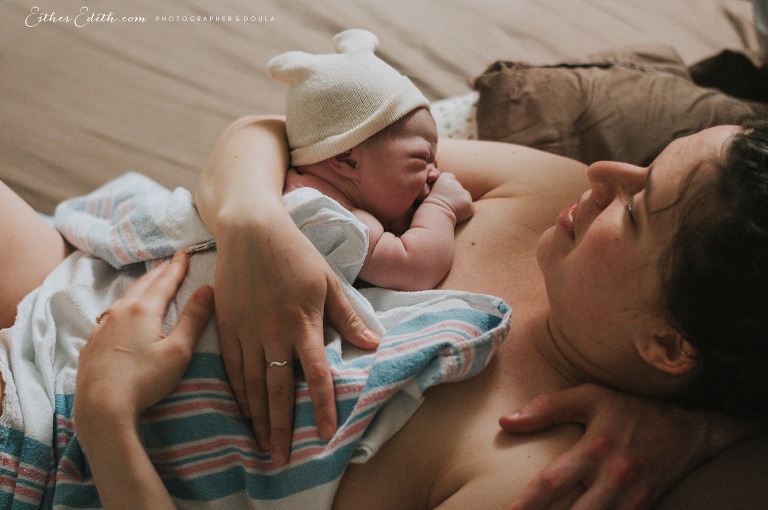 Testimony of experience with Esther Edith as your Birth photographer:
"Esther has an amazing talent. Not only is she a wonderful photographer with a keen eye for capturing light, priceless moments, and personalities, but she also has a gift in the manner she conducts her work. She was able to put my husband at ease; he is normally someone who would be so uncomfortable with a portrait session, but Esther was able to capture him perfectly!
A birthing shoot is way different than any other kind of photography, obviously. We had originally planned on it only being us, our midwives, and one friend, but Esther was the best addition we could have had. I hardly knew she was there except when she was being gently reassuring with her beautiful smile. She has such a kind spirit and having her there with us for this sacred event was a gift. She was respectful and gave us our space when needed without us having to ask.
As for the photos, I will cherish all of them forever and have spent countless hours staring at them. My favorites, of course, are from the birth. If Esther had not captured it, I don't think I would have remembered it so well. As it stands, I have beautiful reminders of the most special moments- when we laid eyes on our daughter for the first time, our first family photos, etc. But, I also have so many pictures heavy with meaning of the little moments in between. Two of my favorites are one of my spouse holding my hand through difficult moments and one of my face- looking peaceful (a feeling I don't remember!) in the thick of it.
Esther knows what she is doing and she is so good at it! With her work, she gave us a gift that will last forever."
Anything unique or that you valued about your session?
"For our maternity shoot (and birth shoot too, obviously!) Esther just let us be ourselves. It was effortless and the result was that she captured the essence of who we are and what our relationship is like. My spouse is camera-shy, but Esther took wonderful photos of him.
I got a million compliments from friends, family, and complete strangers about our pictures. Esther knows how to play with natural light and how to keep things simple in a way that lets special moments shine for themselves."

Suggestions?
"Only one- hire her!
But seriously, if you are on the fence about maternity pictures, a newborn session, or could never imagine having a birth photographer- reconsider! I didn't always feel beautiful while pregnant and I would have never imagined that some of my most precious keepsakes would be pictures from my labor, but Esther's work made me feel beautiful during such a powerful but fleeting moment in my life and our birth photos mean so much to me now."
~ Brent & Callie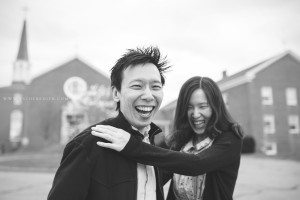 "Esther is a very talented photographer. We invited her to take our engagement photos and are very happy with her service. She can capture the best moments of your life in the most natural way. Just browse through her website and you will be amazed how good she is!" ~ Ying Tang, 2015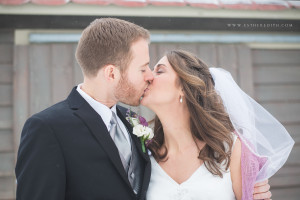 "To begin with, Esther is an amazing photographer! February 7th is a special day for my husband and I, as it was the day we were united in marriage. Esther was there to capture all our special moments. She did so with grace and an eye for the unique shot. We hardly knew she was there at times. The venue had a challenging lighting setup but Esther was able to handle it with expertise. She sent our photos to us in a timely manner and we were more than pleased with all that she captured. Well done Esther and I hope your business continues to flourish!" ~ Melissa Fillmore, 2015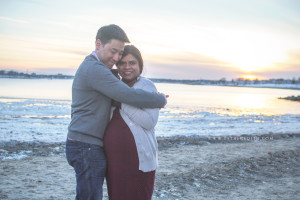 "Esther was great to work with. She was knowledgeable about suggesting locations and figuring out what kind of feeling we wanted to convey in the shoot. She also kept an eye on local light and weather conditions to get optimal shots! A true professional who clearly cares about her clients and work.
~ Taka & Nira, Maternity Photography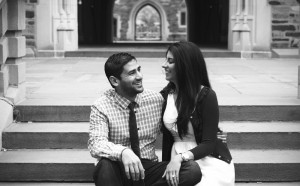 "Thank you so much for arranging your schedule to accommodate ours. We really appreciated your flexibility. We are over the moon about how wonderful the pictures turned out."
~ Bhavin & Prali, Engagement Photography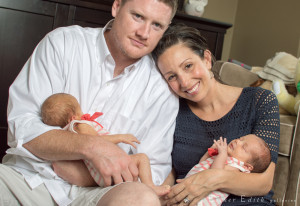 "Esther is a lovely, warm hearted photographer, who was very patient with our babies. She came full of ideas, yet was open to any & all of our suggestions. She kept the camera shooting between poses to capture some of the most candid & organic moments, without being the least bit intrusive. She is truly a professional at her craft, yet amazingly down to earth and genuine. I highly, highly recommend her & am sad she moved so far away from us (NJ). She is super sweet & beyond talented!"
~ Bryan & Tina, Newborn Lifestyle Photography, and Newborn Portraits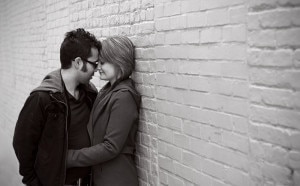 "Esther was an absolute treat to work with! Rarely do you find photographers with her level of skill and creativity who are also personable enough to make you feel so comfortable during a shoot. In fact, she made things so natural it didn't even feel like we were on a photo shoot, but rather just some friends going out to take pictures. We've been recommending her to everyone we know!" ~ Jordan and Amber, Couple's Photography.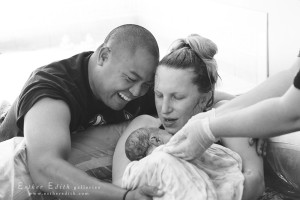 "Esther is so great to work with and did a beautiful job on the pics she took. She is so kind and accommodating. She truly cares about her work and clients. I would not hesitate to hire her again. The pics really came out great. I have many favorites. There's a great shot of my boys, my Husband, and I all looking at baby Roman and you can see baby Roman's face and all of us gazing at him. I also LOVE a shot of my boys walking down the hallway with their gifts for their new brother in their hand. Esther did such a great and thorough job documenting the birth. I also liked that she was very quiet and subtle when taking the pics while I was in active labor and focusing on birthing my Son. Being in active labor is just a very uncomfortable time where for me, I don't even want to talk. Having someone who recognized the need for a peaceful setting was great." ~ Joy, Home Birth Photography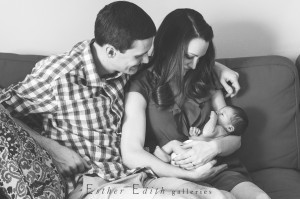 "Thank you so much for capturing the best parts of my life so I can look back and remember my huge belly, adoring hubby and tiny girl. You are so talented and we are thrilled to have your work framed around our home. We really appreciate all of the time and hardwork you put into all of our sessions as well as your thoughtfulness and professionalism during Mary Allison's birth! Thank you again!" ~ Brigid, Chris & May, Newborn Lifestyle Session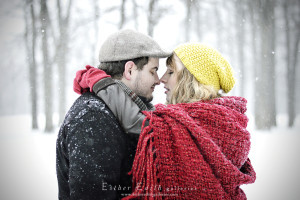 "Esther has a wonderful eye for beauty. She comes with a plan for getting amazing images, but she also takes time in the moment to scope out the most beautiful spots and poses and allows your personality to be the highlight of the photos. What I love most about the photos from our snowy, holiday shoot is that we look great, but the backgrounds of the photo are also stunning without taking the focus off of the subjects. We love our photos! They are so beautiful and the experience was a ton of fun. Esther has the kind of personality you always wish for in a photographer – she contributes strong ideas and direction, but she is also personable and kind in the process, making you feel as comfortable as possible. Thanks, Esther!"
~ Carlee, Winter Couple's Photography Session, 2014


Spokane Birth Photographer Reviews, Spokane Photographer Reviews, Coeur d'Alene Photography Reviews, Spokane Maternity Photography Reviews, Spokane Newborn Photography Reviews